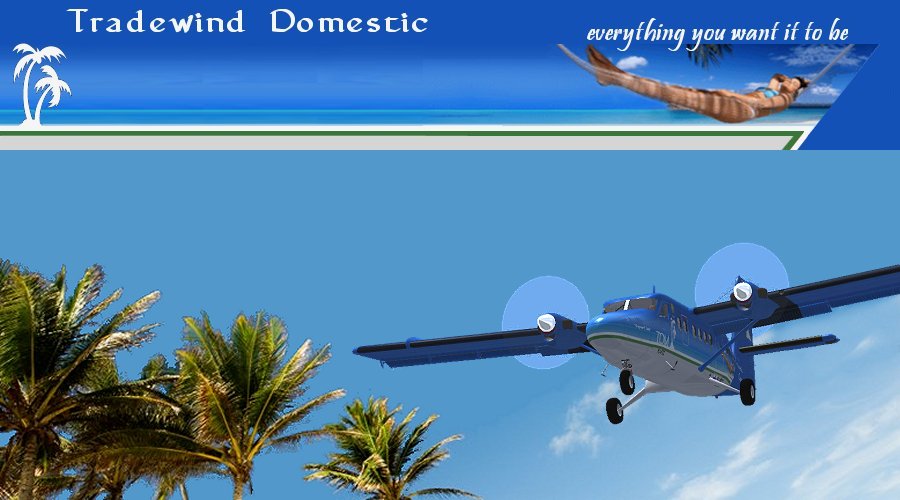 | | |
| --- | --- |
| Callsign ~ Tradewinds (already available in FS9) HERE | |
PJ-TEA 'Calypso'

FS9 ONLY

Aerospatiale ATR42-500 ~ Francisco Sánchez-Castañer

The ATR-72 is a stretched development of the popular ATR-42 and was launched in January 1986.

Significant differences between the ATR-72 and the smaller and older ATR-42 include a 4.50m (14ft 9in) fuselage stretch and reworked wings. The ATR-72's wings are new outboard of the engine nacelles and with 30% of it made up of composite materials, comprising composite spars and skin panels and a carbon fibre wing box.

Aside from the baseline ATR-72-200, two developments have been offered, the ATR-72-210, and the ATR-72-500 (previously ATR-72-210A). The ATR-72-210 is optimised for operations in hot and high conditions. It has more powerful PW-127 engines for better takeoff performance.

The ATR-72-500 (renamed from ATR-72-210A on May 18, 1998) further improved hot and high model was certificated in early 1997. It features PW-127Fs driving six blade composite Hamilton Sundstrand propellers.

Repaint by Meindert Wijnberg

Panel and full package ~ Included
PJ-GBH 'Kralendijk'

Aerospatiale ATR72-500 ~ Francisco Sánchez-Castañer

The ATR-72 is a stretched development of the popular ATR-42 and was launched in January 1986.

Significant differences between the ATR-72 and the smaller and older ATR-42 include a 4.50m (14ft 9in) fuselage stretch and reworked wings. The ATR-72's wings are new outboard of the engine nacelles and with 30% of it made up of composite materials, comprising composite spars and skin panels and a carbon fibre wing box.

Aside from the baseline ATR-72-200, two developments have been offered, the ATR-72-210, and the ATR-72-500 (previously ATR-72-210A). The ATR-72-210 is optimised for operations in hot and high conditions. It has more powerful PW-127 engines for better takeoff performance.

The ATR-72-500 (renamed from ATR-72-210A on May 18, 1998) further improved hot and high model was certificated in early 1997. It features PW-127Fs driving six blade composite Hamilton Sundstrand propellers.

Other Suggested Files:

WARNING !
This archive comes with an aircraft specific version of FSUIPC. If you have a registered copy of FSUIP back it up first and reinstall it after you've installed this aircraft. I included it because the panel will not work without FSUIPC.

Alternatively install it to a dummy location and deselect that file when moving files to FS9

Repaint by JF

Panel and full package ~ Included
RA 46610

FS9 ONLY

Texture ONLY

Antonov An-24RV ~ SamDim Design

The An-24 is the original aircraft in a prolific and highly successful family of twin turboprop civil and military transports. The An-24 first flew in April 1960 with first production versions entering Aeroflot service in September 1963. Aeroflot was the largest An-24 operator, with others going to Soviet client nations.

Subsequent production versions of the An-24 were the An-24B and the An-24T freighter. A small turbojet in the right engine nacelle to boost takeoff performance resulted in the An-24RT and An-24RV. The An-24P firebomber was also developed before Ukrainian production ceased in 1978.

The An-24 was also developed into the An-26 "Curl" military tactical transport with more powerful engines and redesigned tail, which itself evolved into the An-32 with enhancements for better hot and high performance. Over 550 An-26s are in civil service.

The An-30 development has been produced in limited numbers and is used largely for aerial survey and cartography work. This version is identifiable by its extensive nose glazing.

The An-32 first flew in 1976 and features much more powerful 3760kW (5042ehp) Progress engines for improved hot and high performance. The An-32 features above wing mounted engines to give the larger diameter props adequate ground clearance.

China's Xian Aircraft Manufacturing Company is now the sole production source for the An-24 as the Y-7. The Y-7-100 incorporates a number of modifications including a revised passenger interior and flightdeck, and wingtip winglets. It was developed with the technical assistance of HAECO in Hong Kong during the 1980s.

Other Essential Files:

You need to have already installed the v2.02 Base Package from: Avsim

or have v1 updated to v2.02

Repaint by JF

Textures only
PJ-VOR 'Millie'

FS9 ONLY

Beechcraft 18 Volpar ~ Brian Gladden

The Beech 18 was one of Beechcraft's most enduring designs. In production from the late 1930's until the early 60's many are still in use all over the world.

This plane represents a late Model Super H with the Volpar Trigear conversion. The Volpar kit added an extended nose and converted the plane to a tri-gear configuration rather than the stock taildragger landing gear.


Other ESSENTIAL Files:

Repaint by JF
PJ-HDW 'Carriacou'

FS9 ONLY

Bombardier Dash8 Q400 ~ Dreamwings

Bombardier's 70 seat de Havilland Dash 8 Series Q400 is the latest and longest member of the successful Dash 8 twin turboprop family, but with new engines, avionics and systems, a modified wing and stretched fuselage is essentially an all new aeroplane

Other Suggested Files:

SOUND ~ 43Mb

Dash-8 Q2-400 The Real Deal V.2

Repaint by JF

Panel ~ Included
PJ-BNB 'Ladder Bay'

Textures only

FS9 ONLY

Britten Norman BN2A Islander

~ Marcel Kuhnt

The BN-2 Islander was Britten-Norman's second original design, work on which began during 1963.

Developed as a Dragon Rapide replacement, the emphasis was on producing a rugged and durable aircraft that had good field performance, low operating costs and was easy to maintain. One unusual feature is that there is no centre aisle between seats in the main cabin, instead there are three doors along each side of the fuselage for passenger boarding. The prototype BN-2 Islander was powered by two 155kW (210hp) IO-360s and first flight was on June 13 1965.

The first production machines were powered by 195kW (260hp) IO-540s and were simply designated BN-2, the first flew in 1967. A small number were built before production switched to the BN-2A which introduced fairings to the main undercarriage legs, wing leading edge and flap droop, and an increased max takeoff weight. From 1970 the base A model was the BN-2A-6 and the BN-2A-7 had extended wingtips, while the BN-2A-2 and BN-2A-3 were powered by the 225kW (300hp) IO-540, the latter with the extended wingtips.

Appearing in 1972 were the 195kW (260hp) powered BN-2A-26 and extended wingtips BN-2A-27, and the 225kW (300hp) BN-2A-20 and extended wingtips BN-2A-21, all four models having higher weights. Further improvements came with the BN-2B range with higher weights, improved interior and instrument panel and shorter diameter props. The 26, 27, 20 and 21 variants were available as before. The 27 and 21 were later dropped while the BN-2B-20 and BN-2B-26 remain in production. The turboprop (Allison 250) powered BN-2T has been built since 1981.

In September1979 Britten-Norman became Pilatus Britten-Norman, in July 1998 it was renamed back to Britten-Norman, and from April 2000 it became B-N Group.




Other ESSENTIAL Files:

DIBNA32G.zip (BN2A two bladed prop) BN32Rest.zip and BN32Snd2.zip

from http://www.m-r-software.de/

Repaint by JF
PJ-TRI 'Cove Bay'

Textures only

FS9 ONLY

Britten Norman BN2A Trislander

~ Marcel Kuhnt

The three engined Trislander takes its inspiration from the configurations of trijets such as the L-1011 and DC-10 in its answer to the need for more power for a stretched version of the Islander (described separately).

Britten-Norman research showed that there existed sufficient market demand to warrant the development of a stretched Islander, and the company concluded that any stretched version would need to offer a 50% increase in internal capacity. The company's novel approach to the need for more power was to add a third engine, rather than two engines of increased power output. A nose mounted engine in the fashion of the Ju-52 was considered, but due to the Islander's nose configuration, BrittenNorman settled on mounting the engine on the vertical tail, resulting in the BN-2A Mk.3 Trislander.

The tail mounted engine involved significant modification to the tail and strengthening of the rear fuselage. Other changes over the Islander include a 2.29m (7ft 6in) fuselage stretch forward of the wing, new main landing gear and larger diameter wheels and tyres.

The first Trislander was in fact converted from the second Islander prototype, and it made the type's first flight on September 11 1970. Early production Trislanders were also conversions of Islanders, while subsequent Trislanders were built on the same production line as the Islander. The first production Trislander flew on March 6 1971, certification was granted on May 14, and first deliveries to a customer occurred on June 29 that year.

Britten-Norman Trislander production ceased in 1982 after 73 were ordered (by which stage the company had been acquired by Pilatus). Plans to produce the Trislander in the USA as the TriCommutair by the International Aviation Corporation, and in Australia never came to fruition. However one of 12 kits built for the TriCommutair project was assembled in Guernsey in the UK and flew in March 1996.




Other ESSENTIAL Files:

GXTOR32G.zip, BN32Rest.zip and BN32Snd2.zip

from http://www.m-r-software.de/

Repaint by JF
PJ-FDE 'Celia Cruz'

FS9 ONLY

De Havilland DHC-3 TTC Super Otter ~ Eugene Heyart

This airplane is the exact copy of the conversion created
by (real world) Texas Turbine Conversions. This Otter has received a more powerfull turbine for a much better performance.

Other ESSENTIAL Files:

Repaint by Francisco Aguiar
PJ-FCC 'Wayward Soul'

FS9 ONLY

De Havilland DHC-6 300 ~ Premiercraft

Canada's most successful commercial aircraft program with more than 800 built, the Twin Otter remains popular for its rugged construction and useful STOL performance.

The Series 300 was introduced from the 231st production aircraft in 1969. It featured the lengthened nose, but also introduced more powerful engines, thus allowing a 450kg (1000lb) increase in takeoff weight and a 20 seat interior. Production ceased in late 1988. In addition, six 300S enhanced STOL performance DHC-6-300s were built in the mid 1970s.

Other ESSENTIAL Files:

Repaint by Francisco Aguiar

Panel ~ Included
PJ-FCV 'Island Vista'

Operated by TDM for sightseeing tours

FS9 ONLY

De Havilland DHC-6 300 Vistaliner ~ Premiercraft

Canada's most successful commercial aircraft program with more than 800 built, the Twin Otter remains popular for its rugged construction and useful STOL performance.

The Series 300 was introduced from the 231st production aircraft in 1969. It featured the lengthened nose, but also introduced more powerful engines, thus allowing a 450kg (1000lb) increase in takeoff weight and a 20 seat interior. Production ceased in late 1988. In addition, six 300S enhanced STOL performance DHC-6-300s were built in the mid 1970s.

Other ESSENTIAL Files:

Repaint by JF

Panel ~ Included
PJ-FCK 'Pegasus'

Operated by TDM for Caribbean Skydivers

FS9 ONLY

De Havilland DHC-6 300 Skydive ~ Premiercraft

Canada's most successful commercial aircraft program with more than 800 built, the Twin Otter remains popular for its rugged construction and useful STOL performance.

The Series 300 was introduced from the 231st production aircraft in 1969. It featured the lengthened nose, but also introduced more powerful engines, thus allowing a 450kg (1000lb) increase in takeoff weight and a 20 seat interior. Production ceased in late 1988. In addition, six 300S enhanced STOL performance DHC-6-300s were built in the mid 1970s.

Other ESSENTIAL Files:

Repaint by JF

Panel ~ Included
PJ-DOC 'Ducos'

N228TA 'Afognak'

Dornier Do228~ Premier Aircraft Design

The Dornier Do 228 is a small, German, twin turboprop STOL-utility aircraft manufactured by Dornier GmbH (later DASA Dornier, Fairchild-Dornier) from 1981, to 1998. In 1983, Hindustan Aeronautics bought a production licence and manufactures the 228 till this day. Approximately 270 Do 228 were built at Oberpfaffenhofen, Germany, and Kanpur, India. About 195 are still in service worldwide.

History
In the late 1970s Dornier GmbH developed a new kind of wing, the TNT ("Tragflügel neuer Technologie"), subsidized by the German government. Dornier tested it on a modified Dornier Do 28D-2 "Skyservant" and with Pratt & Whitney Canada PT6A-110 Turboprop engines. Finally Dornier changed the engine and tested the new aircraft, which was named Dornier Do 128, with two Garrett TPE 331-5 engines. The company developed a new fuselage for the TNT and TPE 331-5 in two variants (15/19 Passenger) and named both project-aircraft E-1 (later Do 228-100) and E-2 (later Do 228-200). At ILA '80 Dornier presented the new aircraft to the public. Both prototypes was flown on March 21, 1981, and May 9, 1981, for the first time. After the certification the first Do 228 entered service in the fleet of Norving Flyservice in February, 1982. Over the years Dornier offered the 228 in upgraded variants and with special equipment for special missions. In 1998, the production line was stopped for better development of the successor Dornier Do 328.


Other ESSENTIAL Files:

Base aircraft from Premier Aircraft Design

NB. Readme txt comments on mdl files

Repaints by Jack Ford
PJ-ELO 'Grand Anse'

FS9 ONLY

NB. Base file MUST be installed first

Embraer EMB-120 Brasilia ~ OSS

The Brasilia has proved to be a popular, relatively high speed yet comparatively inexpensive to operate and purchase regional airliner.

Embraer first began design work on a new regional turboprop airliner in the late 1970s when the company studied stretching its EMB121 Xingu corporate turboprop to a 25 seat regional airliner. While this was the first aircraft to bear the EMB120 designation (it was named the Araguia), the production EMB120 is an all new aircraft. Design studies of the definitive EMB120 began in September 1979, first flight of a PW115 powered prototype took place on July 27 1983, and entry into service was in October 1985.

Versions of the EMB120 include: the initial production EMB120; the Reduced Takeoff weight EMB120RT; the Extended Range EMB120ER; the EMB120 Cargo freighter; mixed passenger/freight EMB120 Combi; and EMB120 Convertible. Hot and high versions of these models have PW118A engines, which retain their power ratings to a higher altitude.

The current production model is the EMB120ER Advanced, which incorporates a range of external and interior improvements. The fuselage of the EMB120 also forms the basis for the ERJ145 50 seat regional jet.

Other ESSENTIAL Files:

OSS freeware EMB-120

Optional but recommended:

aircraft.cfg update based on real world AOM data by Karl Hajek


Repaint by JF

Panel ~ Included
PJ-ECX 'Blue Tang' TDM

Includes

N110TA 'Brittle Star' Tradewind Alaska

For FS9 and FSX

FDE update for PAX versions ONLY

Embraer EMB-110 Bandeirante ~ AEROPROYECTO

The Embraer EMB-110 Bandeirante, or `Bandit', remains Embraer's most successful commercial aircraft program.

Design of the EMB-110 was undertaken in response to a Brazilian Ministry of Aeronautics specification for a general purpose light transport suitable for military and civilian duties. The new design was developed with the assistance of well known French designer Max Holste, and the first of three YC-95 prototypes flew for the first time on October 26 1968.

Embraer (or Empresa Brasilera de Aeronautica SA) was established the following year, and development and production of the C95 became one of the company's first responsibilities. The first production standard EMB-110 Bandeirante (Portuguese for Pioneer) flew on August 9 1972, and the first entered airline service in April 1973.

Bandeirante models include the 12 seat transport EMB-110, the aerial photography EMB-110B and maritime patrol EMB-111 for the Brazilian air force; the initial airline version, the 15 seat EMB-110C; the seven seat EMB110E executive transport; 18 seat enlarged EMB-110P; convertible passenger/freight EMB110P1 with larger rear door; the EMB-110PA which replaced the 110P as the standard passenger aircraft from 1983 and introduced dihedral to the tailplane among other minor improvements; the EMB-110P1K and EMB-110K SAR military equivalents to the P1A; the EMB-110P2 commuter with seating for up to 21; the EMB-110P2A which replaced the P2 and introduced the same changes as the P1A; and the EMB-110P1A/41 and EMBP2A/41 versions of the P1A and P2A recertificated to US FAA SFAR41 standards with higher weights.

Production of the Bandeirante ceased in May 1990, the final aircraft being delivered to the Brazilian Air Force. Today the Bandeirante's virtues of reliability and good operating economics means that it remains popular with its operators.

Other ESSENTIAL Files:




Repaints by JF
PJ-FED 'West Peak'

Includes TL version PJ-FEK

Essential Texture Update - Grey Spinners

or

Essential Texture Update - Blue Spinners

or

Essential Texture Update - Black Spinners

Fokker 50 v3 ~ Dreamwings

The Fokker 50 was the successor to Fokker's highly successful and long running F-27 Friendship.

Fokker announced it was developing the 50 seat Fokker 50, together with the 100 seat jet powered Fokker 100, in November 1983. The Fokker 50 is based on the fuselage of the F-27-500 Friendship, but incorporates a number of key design changes. Foremost of the improvements was the new generation Pratt & Whitney Canada PW125 turboprops driving advanced six blade props, giving a 12% higher cruising speed and greater fuel economy, and thus range. Other improvements include new avionics and an EFIS glass cockpit, limited use of composites, small `Foklet' winglets, and more, squared, main cabin windows.

Two prototypes were built based on F-27 airframes (despite the fact that over 80% of Fokker 50 parts are new or modified), the first flying on December 28 1985. The first production aircraft flew on February 13 1987, certification was granted in May 1987, and first customer delivery, to Lufthansa Cityline, was during August that year.

The basic Fokker 50 production model is the Series 100. With three, instead of four doors, the Series 100 is designated the Series 120. The hot and high optimised Series 300 has more powerful PW127B turboprops, and was announced in 1990. It has higher cruising speeds and better field performance, particularly at altitude.

The only significant development of the Fokker 50 to see the light of day was the Fokker 60 Utility, a stretched utility transport version ordered by the Royal Netherlands Air Force. Fokker built four for the Netherlands air force and looked at offering a passenger variant. The Fokker 60 was stretched by 1.62m (5ft 4in).

Fokker collapsed due to financial problems on March 15 1996 and the last Fokker 50 was delivered to Ethiopian Airlines in May 1997.




Other Suggested Files:

Repaint by JF

Panel ~ 2D by Espen Øijordsbakken included

Essential to read the docs !
PJ-VJN 'Paria Bay'

(Also includes N186TA 'King Cove' TA)

FSX ONLY

- texture update available

Lockheed L188 Electra II ~ KBT

Lockheed's Electra provided a number of airlines with their introduction to turbine powered aircraft. Today it remains popular with freight operators.

The Lockheed L-188 Electra was developed to meet a 1954 American Airlines requirement for a domestic short to medium range 75 to 100 seat airliner. In June 1955 American awarded Lockheed an order for 35 such aircraft. Lockheed's design, the L-188, was a low wing, four turboprop powered aircraft. Many other airlines shared American's interest in the L-188, and by the time the first prototype flew on December 6 1957, the order book stood at 144. Service entry was with Eastern Airlines (due to a pilot's strike at American) on January 12 1959.

However, any optimism Lockheed felt about a strong sales future would have been short lived, as a number of crashes in 1959 and 1960 (two of which where the aircraft broke up in flight) contributed to a number of order cancellations.

As an interim measure following the crashes, speed restrictions were imposed on Electras. Investigations uncovered a design defect with the engine mountings where the wing would shake and eventually break up. Lockheed undertook a significant modification program where the nacelles, nacelle mountings and wing structure were strengthened, and the speed restrictions were eventually lifted in 1961. After that the Electra proved reliable and popular in service, but the damage had been done and production wound up in 1961 after 170 had been built.

Lockheed built two basic versions of the Electra. The L-188A was the basic production aircraft, and accounted for most Electra sales. The L-188C entered service with KLM in 1959 and had greater fuel capacity and higher weights, and thus improved payload range performance.

The Electra also forms the basis for the hugely successful P-3 Orion long range maritime surveillance aircraft of which more than 600 have been built.

Most Electras currently in service are configured as freighters. From 1967 Lockheed converted 41 Electras to freighters or convertible freighter/passenger aircraft, fitting a strengthened floor and a large cargo door forward of the wing on the left side. Other companies have also converted Electras to freighters. However, a small number remain in passenger service.

Other ESSENTIAL Files:

Repaint by Francisco Aguiar

Panel ~ Included

Must read the docs !
PJ-YSP 'Hispaniola'

(Also includes PJ-YSC, PJ-YSF TL Cargo

and N116TA TA Combi)

52Mb

NAMC YS-11 ~ AFG

The only Japanese airliner to enter production since WW2, the YS11 achieved a degree of success in its domestic market and in North America.

The YS11 was a product of the Nihon Aircraft Manufacturing Company (or NAMC), a consortium of Fuji, Kawasaki, Mitsubishi, Nippi, Shin Meiwa (now Shin Maywa) and Showa. NAMC formed on June 1 1959 to design and develop a short to medium range airliner, with particular attention being paid to meeting the specific operating requirements of the Japanese domestic airlines.

NAMC selected the RollsRoyce Dart over the Allison 501 to power the new airliner. Fuji was given responsibility for the tail unit, Kawasaki the wings and engine nacelles, Mitsubishi the forward fuselage and final assembly, Nippi the ailerons and flaps, Shin Meiwa the rear fuselage and Showa the light alloy honeycomb structural components.

The YS11 first flew on August 30 1962 (a second prototype flew that December), and was awarded Japanese certification in August 1964. By that time the first production aircraft were under construction, and the type entered service with Toa Airways (now JAS) in April 1965. Initial production was of the YS11100, the follow up YS11A200 (first flight November 1967) was designed for export markets and featured an increased max takeoff weight. The YS11A300 was a combi passenger/freight model, while the YS11A400 was a pure freighter with a forward freight door.

The YS11A500, 600 and 700 were equivalent to the 200, 300 and 400, but with a 500kg (1100lb) greater max takeoff weight. Production ceased in February 1974.

By late 1998 66 YS11s remained in commercial service. The largest operators were All Nippon (6) and Japan Air Commuter (12).

Other ESSENTIAL Files:

Repaint by JF

Panel ~ Included

Must read the docs !
PJ-FTJ 'Freeport'

(Textures only)

Operated by TDM Air Taxi

Pilatus PC-12 ~ AFG

The PC-12 is a King Air class and size turboprop aimed at corporate transport and regional airliner operators. It is the latest in a line of single engined PT6 powered Pilatus products.

Pilatus announced it was developing the PC-12 at the National Business Aircraft Association's annual convention in October 1989. First flight of the first of two prototypes occurred on May 31 1991. Certification was originally planned for mid 1993 but a redesign of the wings with the addition of winglets to ensure performance guarantees were met pushed this back, with Swiss certification awarded on March 30 1994 and US FAA FAR Part 23 approval following on July 15 1994.

Compared to the King Air 200 twin, its major competitor, the PC-12's most significant design feature is its use of a single PT6A-67B turboshaft. Internally the PC-12's cabin is also longer (by 6cm/2.4in) and wider (by 15cm/6in) than the King Air 200's, and the same height. The cockpit features EFIS displays and the PC-12 is certificated for single pilot operation while each PC-12 built features a standard cargo door in the rear fuselage. Weather radar is an option but has been fitted to all production aircraft thus far. From 1997 the increased 4.5 tonne MTOW has been standard. New, smaller winglets were introduced in 1998.

The PC-12 is offered in standard nine seat airliner form, in a four passenger seat/freight combi version and as a six place corporate transport. A pure freighter model is under consideration. The PC-12 Eagle is a military special missions platform.

Most PC-12s built thus far have been corporate transports but recent important regulatory changes in Australia, Brazil, Canada and the USA have cleared single engine turboprops for IFR RPT operations in those nations. This has opened up new potential markets for the PC12 as a regional airliner, replacing older King Airs and elderly piston twins such as the Navajo Chieftain and Cessna 400 series.

Other Essential Files:

Other Optional Files:

Repaint by Pat Hanna

Panel ~ Included (NB: Read Notes)
PJ-TDX 'Pride of Saba'

Includes N360TA 'Qawalangin'

Shorts 360 ~ Premier Aircraft Design

The Short 360 is a stretched, larger capacity and improved 36 seat derivative of the 30 seat Short 330.

The relative success of the rugged Short 330 prompted the Northern Ireland based manufacturer to study and subsequently develop a stretched derivative. Short announced it was developing the new airliner in mid 1980, and a prototype 360 flew for the first time almost a year later on June 1 1981.

The first production 360 flew in August 1982 and certification was awarded on September 3 that year. The 360 entered service with Suburban Airlines in the US in November 1982.

The two Short airliners are very close in overall dimensions and size, but the later 360 is easily identified by its new conventional tail unit mounted on a revised rear fuselage. The 360 is also 91cm (3ft) longer than the 330, allowing two more seat rows and six extra passengers to be carried, while the extra length reduces drag. Power is supplied by two Pratt & Whitney PT6A65Rs, and the 360's wing span is slightly greater. Otherwise the 330 and 360 are very similar, and share a high degree of commonality.

Short marketed a number of 360 developments, the first of which was the 360 Advanced with 1062kW (1424shp) PT6A65ARs. The 360 Advanced was introduced in late 1985, but was soon followed by the further improved 360300, which entered service in March 1987. The 360300 introduced advanced six blade propellers, more powerful PT6A67R engines giving a higher cruise speed and improved hot and high performance, plus other aerodynamic improvements. The 360300 was also built in 360300F freighter form.




Other ESSENTIAL Files:

Base aircraft from Premier Aircraft Design

NB. Readme txt comments on mdl files

Repaints by Jack Ford