So sad to hear, that John passed away.
I remember, when I joined TCA in january 2000, John was moderator of the mail list.
I always liked his humor, like his trip into earth orbit:
----- snip -----
Topic: What a view!!!!!!!! :-)))
Date: Dec. 15. 2000
Sorry I aint been around lately - let me explain...you're all kinda correct
actually..
I was down at Cape Canaveral the other day and found myself standing right
next to Buzz Aldrin...After a few minutes, he starts looking at me...spots
my new T-shirt, that I recently received from Pete Chambers...and says to me
...."Moncton!!!!!!!...where the hell is THAT!!!?????"...
So I told him the story, and about our TCA VA and he was
impressed!!!...wew!!...
Next thing I know he's asking if I'd like to take a look at the Columbia
Space shuttle that they are prepping for launch before it takes
off...CRIKEY!!
So there I am..standing on the gantry in my "Moncton" t-shirt, watching the
goings on as they prep the shuttle and strap the crew into place..
Suddenly I here a muffled noise coming from the cabin, and one of the crew
beckons me over...I lean in the hatch and the astronaut says to
me.."Moncton!!!...where the hell isTHAT!!???"...
Just about that time...I get bumped by one of the gantry team, and my hand
slips off the handrail - In my efforts to prevent myself falling head-first
into the space shuttle I instinctively put my hand out to catch my
fall...Now...what happens next is a bit of a blur actually, but it appears
that when put my hand out I inadvertantly hit the manual override button on
the launch sequence and my elbow jammed the throttles wide open...next thing
I know, I 'm in the back of the cabin with my faced pressed agianst the
coffee machine as Columbia hits 3 G's is it's climb out through the clouds
( about that time, I heard the captain say something like "Oh boy!...Are you
in trouble"...as he wrestled with the Shuttle...
So...anyways...here I am...sitting on a borrowed nasa laptop way up here in
high earth orbit..err...ahh...but don't worry...I should be home soon..:-))
One good thing though....remeber how I said the one of the astronauts
exclaimed to me "Moncton!!!...where the hell is THAT!!???...well about a 1/2
hour ago I was able to say to him as I pointe out the window..."hey
mate!!..there's Moncton!!...right down there!!" as we ripped past Canada at
whatever speed this thing goes.
I always said I'd like to see Moncton one day...I just did'nt think it would
be this soon and from this far up!!
Well...I have to sign off now..time for my toothpaste tube of turkey on
rye..
Hey Rainer!..the only way they did'nt jettison me into space with the trash,
was if I promised that TCA would pick up the fuel bill...errr...that ok!?
JM
----- snip -----
I also found an old picture from that time, with John, Rainer, Rick and Pete.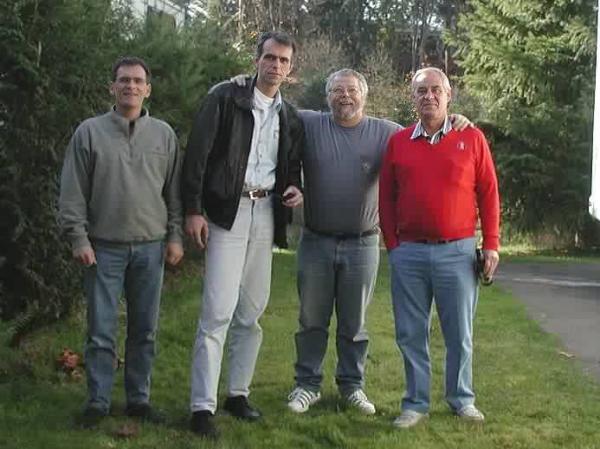 Or John's representations videos for TCA
https://www.mycloud.ch/s/S000B8E4D3D71EC...7B6AF15DAF
Farewell John